Corporate Office
Headed by founder, Mark Verschuur, Fairmont Medical operates a corporate office and extensive manufacturing and warehousing facility in Melbourne, Victoria. Its reputation for sales excellence has been acquired over a thirty year period, since our Australian owned company started distributing quality medical products and equipment on behalf of manufacturers all over the world. Today Fairmont Medical represents a comprehensive yet diverse range of products, among them many well known brands. Dealing with Fairmont Medical, a proven and professional operation, ensures positive outcomes.
Sales Management
Driving sales growth requires accountability and responsibility. Fairmont Medical strives to achieve sales growth targets, provide clinical and product support and establish new business opportunities - whilst maintaining existing customer expectations. We believe in providing the most effective tools to complement the sales team and ensure success - now and in the future.
Sales Divisions
Across a targeted range of general laparoscopy, minimally invasive gynaecology and urology, sterilizing and critical care product portfolios, we have three defined sales divisions:
• Surgical / Infection Prevention
• Critical Care / Anaesthesia
• Hospital Essentials
Customer Service
At Fairmont Medical we endeavour to differentiate ourselves from our competitors by providing personalised sales service, focusing on our customer's requirements. The building of our relationships to support our existing customers is paramount to the ongoing success of the company. We enjoy the advantage of selling established, recognized, market leading devices within all of our product portfolios.
Innovation
Although we produce many well-known medical devices, our true success is due to our commitment to innovation. Fairmont Medical revolutionised the disposable camera cover. After twenty years, it is still recognised as the global market leader.Innovation continues to dominate our landscape, providing a differential factor, growth and reinvestment opportunities. Today, Fairmont Medical continues to offer unique medical devices such as our patented Telepac.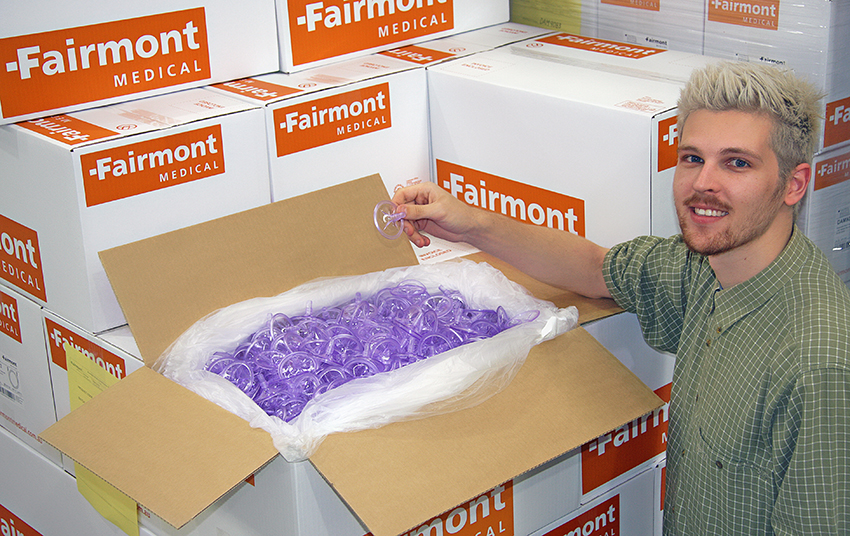 Quality Assurance & Regulatory Affairs
Fairmont Medical is an ISO 13485 quality-certified manufacturing and distribution facility and complies with the rigorous Conformity Assessment procedures as required by the Therapeutic Goods Administration (TGA) and European Commission. Our partners can be assured Fairmont Medical has a complete command of the Australian product registration processes.
Logistics
Every sales organization is only as strong as its supply chain. We have a dedicated warehouse and distribution centre on our premises. Given the vast majority of Fairmont Medical's portfolio is represented on public supply contracts, we are 100% compliant with delivery ranging from same-day to two days in remote areas.
An International Reputation
Today we export to over twenty five countries throughout the regions of Asia Pacific, Europe, Middle East and South America. Located in Chelmsford, Essex our offices are in close proximity to London and provides twenty four hour delivery of product throughout the United Kingdom. Fairmont Medical's Distribution Centre in Rotterdam, Netherlands, services our European customers. Through bypassing expensive and time consuming logistical challenges, we can focus on offering a wide range of medical devices.